About Focuswin Diecutting Mould Sdn Bhd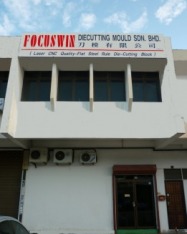 Our company started as Yonwa Trading in early 1981. Focuswin Diecutting Mould Sdn Bhd was established in 1995 and we have since become one of the most prominent die-making companies in northern Peninsular Malaysia.

Focuswin DCM produces various kinds of die cuts moulds, e.g. sticker die wood base die, steel base die, etc. With more than 20 years experience, our company has evolved from the use of manual handsaw to the latest die cut technology, i.e. Auto bender machine. This provides us competency on accuracy, speed and cost efficiency for our customers.

Furthermore, we have a team of experienced staffs who are all well trained in thier respective areas of responsiblility. This means that we are able to provide professional advice on designs, material and on prompt delivery.

Our company's vision is to ensure our customers receive the end product which not only meets thier requirement but also exceeds expectation.